Ringawera Café
As you pull into the pretty tree lined driveway at Morris & James, it's hard to believe that 40 years ago all this was a neglected, gorse ridden farm. Now there is easy parking and the gentle sound of chirping birds, and gravel underfoot. It is the perfect backdrop to feed your soul with art and steal some time for a coffee.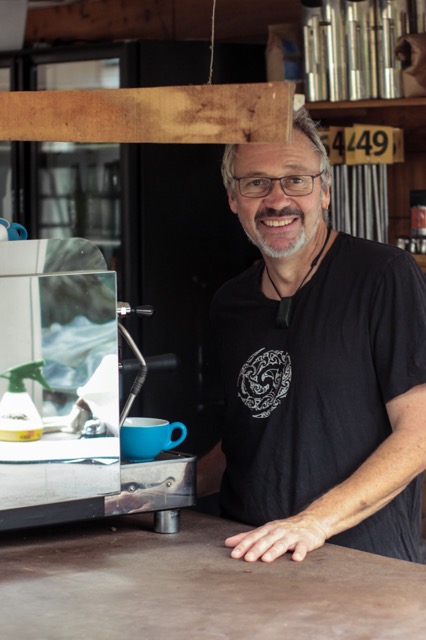 Now there is another reason to visit Morris & James. Looking for a new challenge, Patrick Griffiths, has brought his successful Waiheke Island Café 'Ringawera' (aptly translated as 'hot hands') to Matakana. Baked goods fresh from the oven are at the heart of Patrick's Café, including his special recipe ciabatta for the burger buns that will be sorely missed on Waiheke Island. Gluten-free options are available with the polenta chips coming highly recommended.
Patrick bakes from scratch using quality ingredients with no additives or preservatives and organic where possible. Stop in after a bike ride and refuel with a 'Bronut' - a decadent brioche filled with custard and jam. Grab some irresistibly flaky croissants made with pure NZ butter for a weekend lunch, or drool over the frangipani tarts created with seasonal fruits.
Ringawera is a great option as a new local brunch spot to catch up with friends and whanau. Sit under the cherry tree for a relaxed Matakana experience as the kids play in the castle nearby. You can order a coffee in Te Reo Maori by following the signs and let the smell of fresh bread and coffee uplift your spirit.
Plans for the Café include reinvigorating the menu and wine list while maintaining the brunch and lunch menu, which includes pizzas, fresh cabinet food, salads and burgers. New ideas include collaboration with the artisans to create serveware for the Café and live weekend entertainment by Patrick's band. But change takes time and Patrick is discerning about how he can add a new twist while respecting the rich legacy that is Morris & James.
09 422 7484