Master Craftsman: Halwyn Forge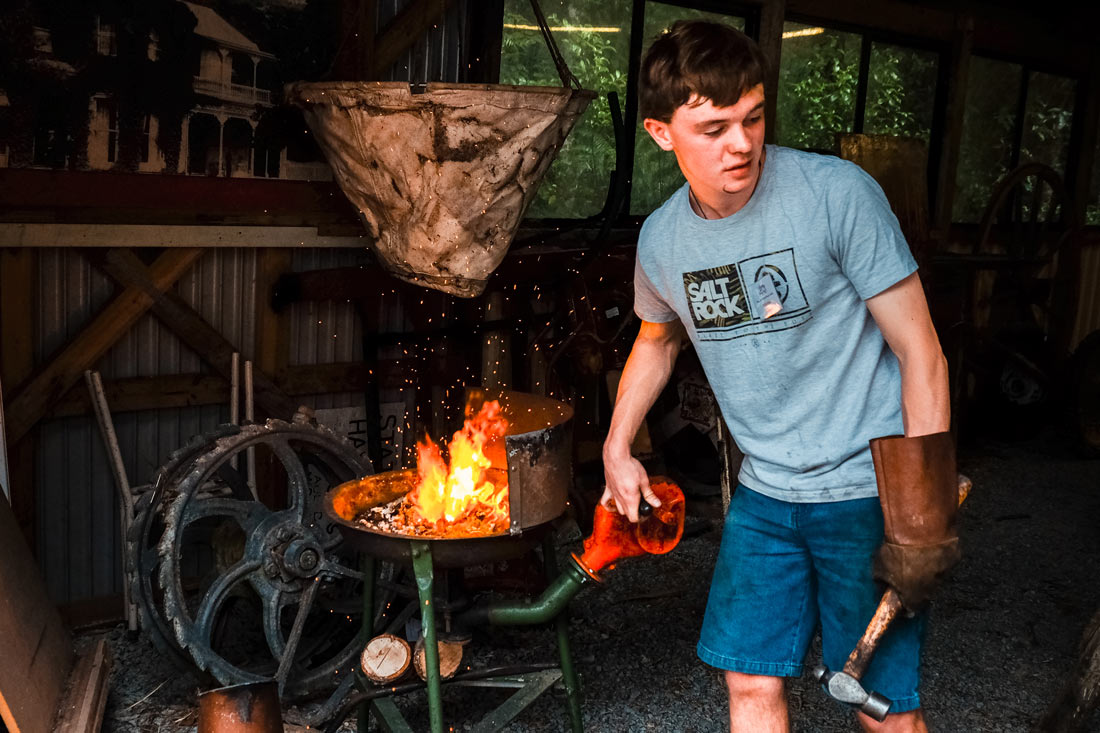 Many would be turned away by the thought of flying sparks and hot metal, but Jowan Nute sees his future in the flames. Jowan was first introduced to blacksmithing at the age of 11 as he watched a documentary on Viking swords and how they were made. But his curiosity and passion were truly sparked as he lit his first forge a short time later, and he's never looked back.
Born in Cornwall, England, Jowan and his family moved to Matakana in 2011. Jowan's first forge was nothing more than a hairdryer stuck into the side of a pile of bricks assembled in the backyard. His dad, a joiner/cabinetmaker by trade, and his granddad, a man of many talents, gave him support and inspiration as he learned to use a hammer and strike the iron on his first forge. The first item Jowan crafted out of hot metal was a small letter opener made from a piece of Number 8 wire. Basic in function and design, a simple letter opener involves numerous important skills, including scrolling, flattening, and tapering of the hot metal into the desired object. As his love for blacksmithing grew, his desire for it to become more than a hobby also grew. His outdoor forge was moved to a purpose-built workshop on his parents' property that he and his father built over the summer of 2015.
Jowan Nute is currently a 15-year-old, Year 10 student at Mahurangi College. With the busyness of being a full-time student, Jowan hasn't been able to spend as much time working on his blacksmithing skills as he would like to, but the desire to create objects with style and purpose continues to be an instrumental part of his life. He continues to perfect his craft whenever given the opportunity. In 2017, Jowan launched his own small blacksmithing business. Halwyn Forge, named after the Cornish hamlet his family is from, focusses on making small bespoke items. Jowan has increased his skills since the days of the small letter opener and now offers forged decorative wall hooks, wood-fired pizza pokers, boot scrapes, bottle openers, and drawer handles.
Being a blacksmith has allowed Jowan to become more involved with the community. He has shown his work at the Warkworth A&P Lifestyle Show. Last year, he won first prize for his hand-forged fire pokers. Jowan has also volunteered since age 13 at the Warkworth Museum, giving demonstrations on blacksmithing to help preserve its history and to keep a traditional village craft alive.
If you'd like to see more of Jowan's work, you can follow him on Facebook and Instagram @Halwyn_Forge. If you'd like to see him in action, you can find him most Sundays at the Warkworth Museum forging a piece of hot iron into something beautiful… and useful.