National tragedy with local connections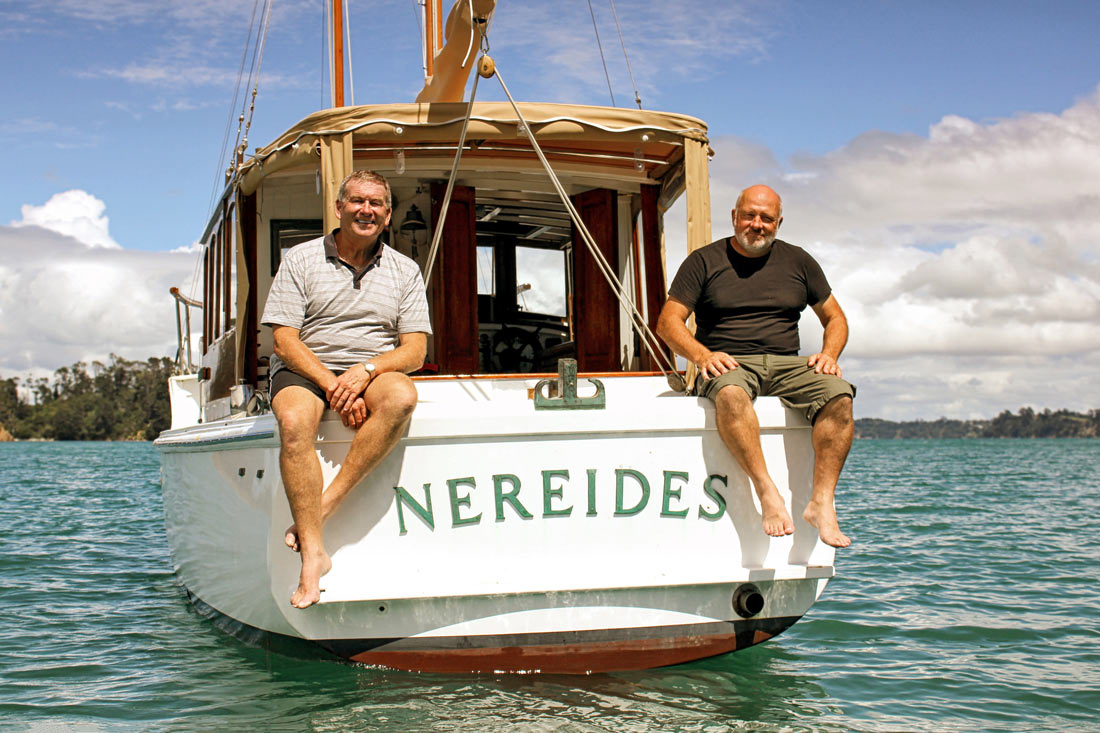 On April 10, it will be fifty years since the great inter-island ferry, Wahine, sank in Wellington harbour. Cyclone Giselle was wreaking havoc in the capital, with recorded wind gusts of up to 275 kilometres per hour. Many civilian boats helped rescue survivors who were forced to leap from the sinking ship into 15 metre waves, but despite their valiant efforts, 51 lives were lost.
One boat involved was a 12 metre wooden motor sailer named Nereides. She's now 92 years old, and is currently owned by Mark Lever of Matakana. Mark heard of her involvement in the Wahine disaster and decided to find out all he could. He was amazed to find that a friend of his, Nicole Ward (owner of Green With Envy) had two family members on his boat that day: her uncle, Peter Ward, who was only 12 years old, and her grandmother, Joan.
Junction Mag got in touch with Peter, who was very happy to hear from us. At Mark's invitation, he travelled up to Nereides' mooring at Sandspit Marina, and motored with Mark over to Kawau Island. He had some stirring yarns to tell about that terrible day.
At the time, the Nereides was owned by Allan Pain, a close friend of the Ward family. Peter and his mother Joan had come to the Port Nicholson Yacht Club early that morning to help Allan secure the boat against the storm. They knew Wahine was on the rocks but, like everyone else, thought she was stable. Suddenly they heard on the radio that the huge ship was sinking and assistance was urgently needed.
"The water seemed quite calm inside the harbour, so we motored out to see if we could help," Peter recalled. "Wahine was at the harbour mouth, and it was only then we realised that the swell in Cook Strait was absolutely enormous. All the other boats had gone in and we were about to join them when we saw three heads in the water, going over the next wave. We were terrified, but we knew we had to try and save them."
Kathryn Dallas (now Kath Henderson), a 19-year old student from Canterbury, Whangarei farmhand Paul Field, 16, and Cambridge farmer Brian Townend, 55, were at the end of their strength when they saw Nereides coming for them.
Kath had been eating sandwiches and singing 'Row, row, row your boat,' with other passengers in the ship's lounge when they heard – on someone's radio, not from the crew – that the ship was being abandoned. By the time they'd staggered up onto the rapidly tilting deck in their orange lifejackets it was like a scene from a horror movie, with people sliding down the deck through the railings into the boiling seas.
Kath, Brian and Paul had hung on to a life-ring in the ice-cold, four-storey waves for hours. They'd drifted over seven kilometres and if Nereides had not arrived, they would certainly have drowned. Brian encouraged the teenagers, as they were all nearly done in. "To this day, I have no idea how we got them into the boat," says Peter. They finally managed it, but tragically, Brian Townend died before they got back to harbour.
When Peter saw Nereides again at the Sandspit Yacht Club, it was a momentous occasion. "She's changed a fair bit since then," he said. He poked happily about the boat refreshing his memory, and he and Mark compared photos. Both had brought their copies of 'The Wahine Disaster' by Max Lambert, and Mark was fascinated to hear Peter's story.
Nereides, however, had more to tell. Mark discovered she was a patrol boat in Wellington during WWII, with a machine gun mounted on her bow. Trevor Hobman, a teenage semaphorist at the time, confirmed he'd spent many hours on board, hunting mines, submarines, Germans and Japanese in the harbour. "I suppose it was quite lucky we didn't find any," he admitted.
The old boat needs constant work, most of which Mark does himself. He learned woodworking skills from his grandfather, who made furniture, and from online tutorials. His aim is to bring her back to 'a better version of her original self,' and he's not far off. If Nereides is destined for more adrenaline-filled adventures in future, Mark will definitely be on board.
Note: A substantial anniversary event for the Wahine disaster occurs in Wellington in April. Peter and his wife Maggie plan to meet Kath Henderson there, with whom they reconnected ten years ago via a documentary by David Lomas.