Modern Vintage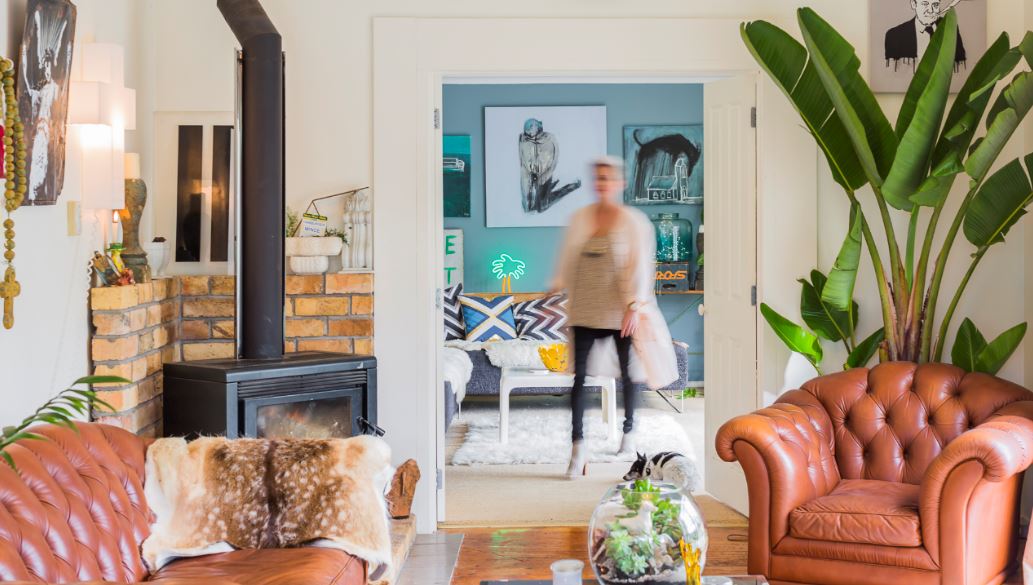 According to Annie Oxborough; "The greatest sin in life is to be boring," and after twenty minutes in her effervescent company, I'm inclined to agree.
Annie and her husband Mark, who is a builder, own a kauri villa on Leigh Road that was built in 1911. It was the original farmstead, but Annie is not your typical farm girl, and typical is not a word you would use to describe her home. The interior décor is a sight to behold. You may not fall in love with the overwhelmingly eclectic mix of modern and vintage, but you will find something that you absolutely adore. Call me macabre, but I would happily have taken the bison horns, deer antlers and 19th Century operating theatre lamp. Every piece has a story, and reproduction, or 'knock off' as Annie says, is positively a dirty word. Annie doesn't shy away from the odd dirty word, but knock offs are a no-no. Just like her décor she is absolutely authentic. 
"I don't do bland, matching or ordered. My home is individual and reflects my personality. When it comes to style, you can't pigeon hole me. I'm unbox-able!"
It's actually a breath of fresh air to meet someone that doesn't care about what other people think. Annie is a trendsetter and it's largely due to her work as a stylist for the past 28 years. Annie's creations have graced the front covers of numerous magazines. A trained florist, she is a one-stop-shop for setting up a 'look'. From weddings and corporate events to homes and offices. If you want Hawaii, she'll bring it to your front room. If you have a penchant for the roaring 1920's, I'm sure she'll have Gatsby, The Charleston Band and the Bureau of Prohibition ready and waiting.
Annie has taken all her favourite bits of cultural style and period living and decorated her house with them. It's a cross between an Aladdin's cave full of props, and a boudoir that doubles as a time machine. She says it started out as a necessity. "I didn't have much money so in-organic rubbish was up-cycled and repurposed. In fact I don't think I have ever brought a new piece of furniture in my life."
Timeless mid-century style is definitely Annie's favourite. A JD Morgan sofa takes pride of place in the lounge, perfectly positioned to soak up the rural views. We sit down and admire the sheep grazing peacefully, apparently the mysteries of caring for sheep are gradually being revealed to Annie. After half a lifetime on the North Shore, she is relishing country living on ten acres.
"I didn't know what true happiness was until we moved here a couple of years ago. The irony is you are more isolated in the city. I felt everyone knew me here within the first ten minutes and the community spirit is fantastic."
The pièce de résistance of Annie's place is the barn. On one side it's a modern white space that is available for almost any type of function or gathering. On the other is 'The Speakeasy'. As a professional pub-goer with many years of research, both here and overseas, I can tell you The Speakeasy is an absolutely top shelf drinking den. It's like stepping back in time and finding the perfect place for a party. Annie is happy to provide the barn, The Speakeasy and the band rotunda on the lawn for any type of gathering. I wouldn't be surprised if it became one of the top places to get married. In fact with Annie as the driving force it's pretty much guaranteed.
www.annieoxborough.co.nz www.facebook.com/matakanavenuehire
Photos, Louise M Photography