the Rockstar of the Meat Industry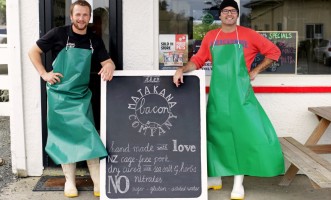 After eating Swedish meatballs from and IKEA café whilst living outside of Amsterdam, Matt Fox and his family were shocked to find out a few days later that what they'd thought was beef was actually horsemeat. This may not have been a problem for those adventurous enough to try a bit of horse but from that point on, Matt was determined to know exactly where his food came from – and he realised that the best way to do that is by eating locally-grown produce.
Originally a physiotherapist and now in the telecommunications sector, Matt Fox first met Matakana local and butcher Matt Watts of The Village Butchery in Matakana while buying Matt's most excellent free-range meat. After years of growing custom and friendship, Matt Fox began experimenting with making his own bacon with pork purchased from The Village Butchery.
Realising that he needed a professional meat slicer to cut his bacon he asked Matt Watts if he could use the butchery's slicer. The butcher was impressed with the bacon but the two Matts decided that they really should provide a smoked option in addition to Matt Fox's sea-salt dry-cured bacon. This was accomplished with the butchery smoker. A slab of smoked bacon and a few beers later, the two blokes were in business and the Matakana Bacon Company had been formed.
This is good, old-fashioned bacon with enough natural flavour to make you drool like Homer Simpson ('mmmm, bacon'). It's free from dodgy additives like nitrates, nitrites, sugar, gluten or added water that has given bacon a bad rap lately. Most importantly, it comes from NZ-raised pigs that have lived a happy, cage-free life. And from only $35.00 per kilo, it's definitely worth going out of your way for.
Matakana Bacon Company bacon can be found at 'The Village Butchery' and every Saturday at the Matakana Farmers' Market.
matakanabacon.co.nz